Alla Mazur announced the results of the exclusive exit poll during the TSN marathon Vybir Krayiny «Country's Choice».
According to the results of the exit poll conducted by Kantar TNS and Info Sapiens, ordered by TSN, Volodymyr Zelensky, who received 30.1% of the respondents' votes, and Petro Poroshenko, who was voted by 18.5% of the respondents, were elected to the second round of the Presidential elections. They are followed by Yulia Tymoshenko (14.0%), Yuriy Boyko (9.1%), Anatoliy Hrytsenko (7.6%), and Ihor Smeshko (6.6%). The order of the candidates corresponds to the data of the Central Election Commission, the difference between the exit poll data and the Central Election Commission does not exceed 2.5%.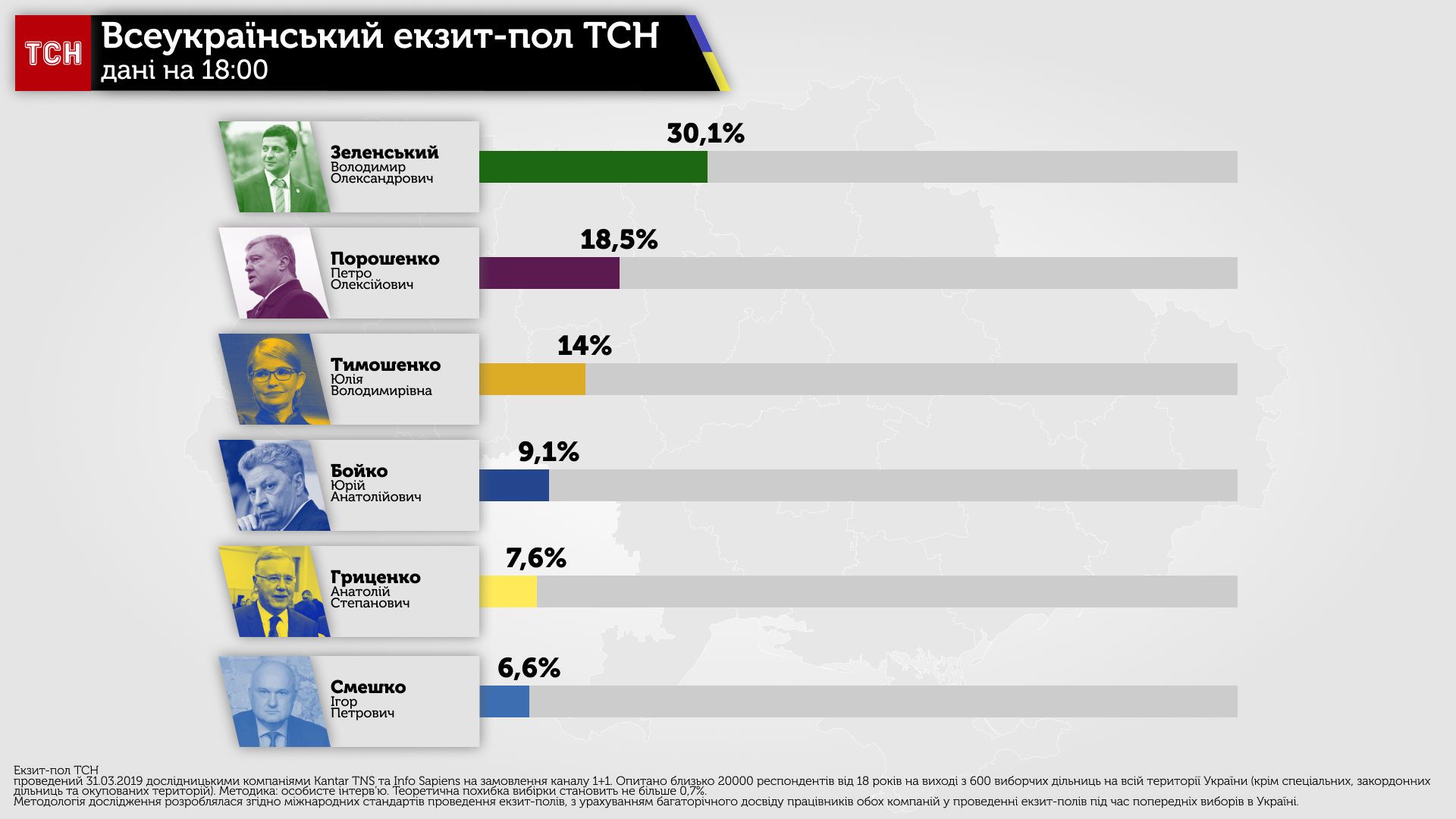 It should be noted that the exit poll on the order of the channel "1+1" was jointly conducted by two authoritative research companies – Kantar TNS and Info Sapiens. About 20 thousand respondents aged over 18 years old were interviewed using the method of face-to-face interviews at the exit from 600 polling stations throughout the territory of Ukraine (except for special and foreign polling stations). The theoretical sample error is no more than 0.7%. The methodology of the research was developed in accordance with international standards, taking into account many years of experience of the workers of both companies in conducting exit polls during the previous elections in Ukraine.
Kantar TNS is an international research company represented in 80 countries of the world, and it has been operating in the Ukrainian market for 18 years. The Info Sapiens Agency was created as a result of the restructuring of the international company GfK Ukraine. Both organizations have significant experience in conducting exit polls: Kantar TNS – since 2004, Info Sapiens team – since 2010. In addition, the research companies have their own national network of interviewers, they are members of The European Society for Opinion and Market Research (ESOMAR), and the Kantar TNS also has two international ISO quality standards.