According to the results of the «Moods and Assessment of Threats by Ukrainians», survey conducted jointly by the Social Monitoring Center, the Ukrainian Institute of Social Research named after Oleksandr Yaremenko, Info Sapiens and Rating Sociological Group, 73% of Ukrainians believe that the country is moving in the wrong direction. According to the majority of respondents (67%), peace is the thing that Ukraine lacks the most today.
81% of respondents expressed their willingness to vote in the presidential election (45% are definitely ready, 36% - rather ready). Leading the presidential rating is V. Zelensky, who is supported by 21.9% of those who have decided on their candidate and are ready to vote. Y. Tymoshenko is supported by 19.2% of the respondents, P. Poroshenko - 14.8%, Y. Boyko - 10.4%, A. Hrytsenko - 8.4%, O. Lyashko - 6.5%, E. Muraiev - 3.4%, A. Sadovyi - 2.4%, O. Shevchenko - 2.2%. All the rest of the candidates are currently each supported by less than 2% of the potential voters. Comparative table of ratings (in Ukrainian) from the three companies: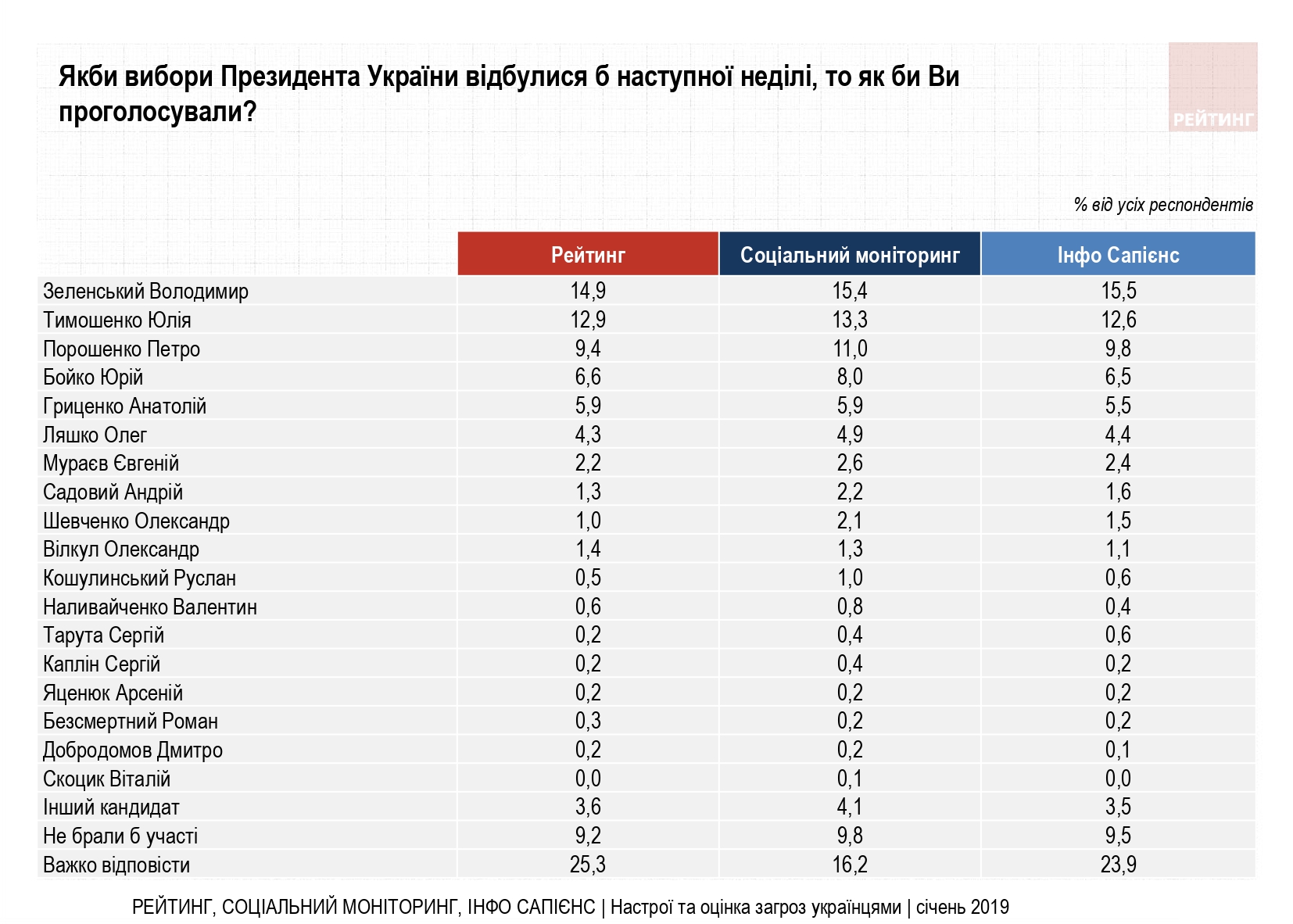 There are currently six political forces with a significant chance to enter the parliament. Batkivshchyna remains the leader of the rating, supported by 21.2% of respondents who have already decided on their choice and intend to vote. The support of the ""Servant of the People"" party is 19.0%, the BPP Solidarity - 13.0%, the Opposition Platform ""For Life"" - 10.5%, the Civic Position - 8.6%, the Radical Party - 6.5%.
Read more in the press release. PDF version in Ukrainian is available via the link.
Sample: 10 000 respondents in all oblasts of Ukraine (without the populations of the Crimean peninsula and the occupied territories of Donetsk and Lugansk oblasts).Timeframe of data collection: 19 – 30 January 2019.